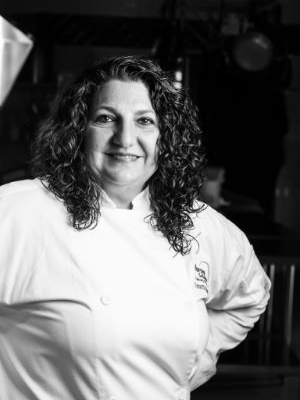 Externship Coordinator
Chef Instructor
B.A. Culinary Management A.A.S. Culinary Arts
Joined Dorsey Culinary Academy in 2009
Q&A with Chef Iaquaniello
Have you always wanted to pursue a career in the Culinary Arts?

No I don't think so. It wasn't until I was in my late teens that I decided that it was really what I wanted to do.

What was the driving force for you to go into the Culinary Arts? What made you decide to work with food?

When my mom passed away, I took over the duties of the household because I have two brothers, so that just kind of fell on my shoulders. The one thing that I really liked doing out of everything was cooking; I really liked the creativity that it allowed. Another thing that sparked it was when my grandparents retired. They bought an 80-acre farm out in Hillsdale and I would spend summers with them. They had a cow that my grandma would milk, and she taught me how to make fresh butter and mozzarella cheese. That got me into the whole idea of the entire process and I thought it was cool. I guess that's what really kick started it.

Did you have any favorite parts or least favorite parts of training?

No, I guess I embraced it all. I really enjoyed school.

What is your favorite kitchen equipment or gadget?

I love my Le Creuset pots. I love the way they cook. Other than that, I guess just my knives.

What are your favorite foods to make or ingredients to cook with?

I don't think I have a favorite to cook with – I guess whatever's in season. I love going to the farmer's markets. You won't find frozen or canned vegetables in my house unless it's a navy bean or a tomato. Everything else is fresh.

What is your favorite food to eat?

Being Italian, I guess it's homemade pasta. I could eat homemade pasta all day long.

How is being a chef, different from being a chef instructor?

There are some similarities because you're still running a kitchen, and you still have to manage everyone to make sure that they're doing the right job. It's different in that you don't have the same pressure. Whereas in a kitchen, you have to make a dish 50 times in the same night and make it look and taste the same, in a classroom setting you make it once and everybody tastes it and goes home, and then we do something different the next day.

What do you love most about being a chef instructor?

I love being able to pass along all the knowledge that I have. There's just so much [information] swimming in my head and there's so much I want to share with them; I think it's really cool that I get that opportunity. I know I help (hopefully) make a difference in their lives.

Can you tell me little about the externship program offered to Dorsey students? In your opinion what can be gained from participating?

The externship is their last module and it's a great opportunity for them to apply what they learned in school, out in the real world.
From participating, the students can gain perspective and experience. The cool thing about culinary arts is there's so many different avenues you can travel down. You're not just stuck with one thing.
They get to find out a little more about the industry, as well as their likes and dislikes within it. And the externship, is a resume builder that can really help jumpstart their career.

In your opinion, what can a student gain from going to Culinary Arts school in Michigan?

They gain knowledge. Coming to school, we teach you the basics straight out of the book. You're able to learn classical coking (which is what everything is based off of), and get a solid foundation to build on.

What advice would you give to someone who wants to pursue a career in the Culinary Arts?

I would say: make sure that you are truly passionate. If you're not passionate about it you'll hate it: it's very physically demanding, hot and not very glamourous; but if you love it, it'll all be worth it.
Chef Iaquaniello is just one of our many talented and caring chef instructors committed to helping our students succeed. If a career in the culinary industry sounds like it may be the path you, Dorsey Culinary Academy may be the right way to help you get started. Take the first step! Contact us today to learn more!