When you have made the decision to study culinary arts, the next step is to determine which school makes sense for you. Dorsey Culinary Academy in Michigan may be just the answer. Of course, there are a number of considerations that should be included in determining where to study culinary arts.
Culinary Arts at Dorsey Schools
Why study culinary arts? When you choose to study Culinary Arts at Dorsey Schools, you will be offered a range of training on the skills needed to help you pursue a career or to aid in furthering an existing career, in the culinary arts. We understand that choosing a school to complete your education isn't easy. You may have decided to start a completely new venture or perhaps you've been working in the industry for a while with no formal training. Now that you've chosen Culinary Arts as your new career of passion, why choose Dorsey Schools? At the Dorsey Culinary Academy, you will be provided training on skills including:
Measuring

Flavor development

Plating

Menu planning

And much more…
Hands-on Experience
At Dorsey Schools, we keep our class sizes small so that our expert instructional staff can provide an individualized experience to each of our students. Classroom training is important, but when you have chosen to study culinary arts, it is also especially helpful to the overall learning experience to be provided the opportunity for hands-on training.
Students in the Culinary Arts program at Dorsey Schools can "learn by doing" while being exposed to the practical side of professional food preparation. The Culinary Arts training program includes an externship component during the last module that is designed to provide students with a hands-on industry-specific experience that models real world occupational settings. This type of experience is designed to help enhance the student's learning experience during their culinary training in Michigan as well as provide them with an opportunity to further prepare for their cooking career.
Potential Opportunities in the Culinary Arts Field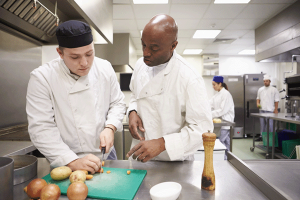 When you have decided to study culinary arts, you are probably excited about all of the training you will be offered, but you will probably also have questions about how the program may be able to help you in your chosen career. There are a number of culinary arts jobs that may be available for entry-level culinary arts graduates, including:
Grill cook

Prep cook

Baker

Banquet cook

L

ine cook
Location(s)
The Culinary Arts program at Dorsey Schools is offered at two convenient Michigan campus locations:
Both the Waterford-Pontiac, MI and Roseville, MI campuses are branch campuses of Madison Heights.
Accreditation
When deciding where to study culinary arts, you may be concerned about the school's accreditation. The Culinary Arts diploma program at Dorsey Schools is programmatically accredited by The Accrediting Commission of the American Culinary Federation Education Foundation (ACFEF).
The Culinary Arts program at Dorsey Schools may be right for you in helping you on your journey towards your potential career in the culinary arts! Contact us online or call us at 888-422-1188 for additional culinary arts information today!
Reviewed and edited 12/6/17