Did you happen to catch 7 Action News This Morning on TV20 Detroit – WMYD Thursday December 10th?  If you didn't you may have missed Dorsey Culinary Academy's own Chef Usher, who shared a holiday baking recipe with viewers.  Chef Usher prepared Pumpkin Muffins with Orange glaze, a great treat to prepare for your family and friends over the holidays or an equally nice gift idea for someone special on your holiday shopping list!  Chef Usher was joined by Amanda West, a Culinary Arts student at Dorsey Culinary Academy's Roseville, MI campus.
Chef Usher Shares a Holiday Baking Recipe on TV20 Detroit – WMYD
Check out the video of Chef Usher's appearance on TV20 Detroit – WMYD along with the recipe below:
Orange-Pumpkin Muffins
All Purpose Flour: 1 cup
Whole Wheat or All Purpose Flour: 3/4 cup
Baking powder: 2 teaspoon
Baking soda: 1/2 teaspoon
Salt: 1/2 teaspoon
Ground cinnamon: 1 1/2 teaspoon
Ground nutmeg: 1/2 teaspoon
Ground cloves: pinch
Brown sugar: 1 1/4 cups
Eggs: 2
Pumpkin puree: 1 cup
Vegetable oil: 1/3 cup
Orange zest, grated:  2 teaspoon
Orange juice: 1/4 cup
Directions:
Combine flours, baking powder, baking soda and salt; stir well.
In a small bowl combine cinnamon, nutmeg and cloves. Transfer 1 teaspoon of the spice mixture to another bowl.
Add 2 teaspoon brown sugar and set aside for topping.
Place remaining spices and brown sugar in a bowl; add eggs and beat well.
Stir in pumpkin, oil, orange zest and juice.
Stir dry ingredients into pumpkin mixture, mix well.
Place batter in a greased muffin pan or in muffin baking cups, sprinkle topping on muffins and bake until done in a 350 degree oven for 15-20 minutes.
Glaze                                                                                                    
Powdered Sugar: 1 cup
Cinnamon: pinch
Milk: 5-6 Tablespoons
Orange Zest: 1/2 teaspoon
Directions:
Mix Powdered Sugar, cinnamon and orange zest together. Add 1 Tablespoon of milk to sugar mixture until desired consistency is achieved
About 7 Action News This Morning and TV20 Detroit – WMYD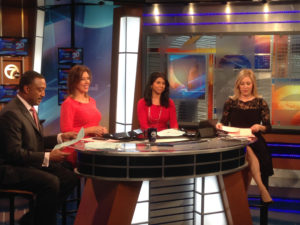 You can get your morning off on the right foot by waking up with the 7 Action News This Morning team.  Join Alicia, Malcom, Ann Marie, Keenan, Erin and the rest of the 7 Action News This Morning team Monday through Friday from 4:30AM to 7:00AM on Channel 7 and then from 7:00AM to 9:00AM on TV20 Detroit – WMYD.  When you tune in you can get the latest news along with weather and traffic updates every 7-minutes or less!
To learn more about 7 Action News This Morning, check out their website at www.wxyz.com or you can learn more about TV20 Detroit at http://www.wxyz.com/tv20detroit/.
About Dorsey Culinary Academy
Dorsey Culinary Academy is committed to helping students take their passion for food and transforming it into an exciting new career.  The Culinary Arts program at Dorsey allows students the opportunity to "learn by doing" while being exposed to the practical side of professional food preparation.  Instruction takes place in the classroom as well as the commercial kitchens on campus.  In addition, during the last module of training, students will take part in an externship where they will have the opportunity to apply the knowledge and skills they have learned throughout the program in an occupational setting.  The Culinary Arts program at Dorsey Schools is accredited by the Accrediting Commission of the American Culinary Federation Education Foundation.  If you're ready to train for an exciting new career in the Culinary Arts, Dorsey Culinary Academy can help you get started!  The Culinary Arts program is offered at the Roseville, MI campus and the Waterford-Pontiac, MI campus.
You may call Dorsey Schools at 888-418-2060 or request info online to learn more!
For more information about our graduation rates, the median debt of students who completed the program, and other important information, please visit our website at www.dorsey.edu/disclosures.