Wayne-Westland Campus FAQs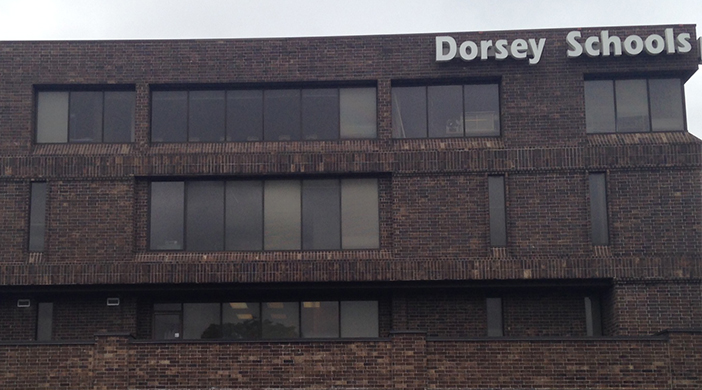 Where is the Dorsey Schools Wayne-Westland, MI campus located?
Dorsey Schools Wayne-Westland, MI campus is located at 35005 W. Michigan Avenue Wayne, MI 48184. The school is located in downtown Wayne between Wayne Road and Second Street.
Can I get to the Dorsey Schools Wayne-Westland, MI campus on the bus?
Yes, our campus is accessible by public transportation.
I'm visiting the Wayne-Westland, MI campus for the first time. Where should I park and report once I arrive?
There is plenty of parking in lot around our school building. When you visit our campus for the first time, please report to the front desk and you can check in with a member of our administrative staff who can assist you.
What programs are offered at the Dorsey Schools Wayne-Westland, MI campus?
The Dorsey Schools Wayne-Westland, MI campus offers the following career training programs:
How long will it take me to complete my program?
Most of the training programs at the Wayne-Westland, MI campus are designed to be completed in a year or less! The Dialysis Patient Care Technician program will take a little over one year to complete.
When are classes offered?
The Dorsey Schools Wayne-Westland, MI campus offers both day and evening classes. This may vary based on which program you are interested in, but one of our Admissions Representatives can share program availability when you visit our campus.
How will I know if the Wayne-Westland, MI campus is closed or classes are cancelled due to inclement weather or a power outage?
In instances when a class needs to be cancelled or school is closed due to an emergency such as a power outage or a snow day, Dorsey Schools has established the following set of resources to keep students and staff informed:
Students can check for school closure information with the major local television stations in their area.
School closures will also be posted on our homepage under News/Events and the main Dorsey Schools Facebook page.
Students may call the Dorsey Schools Emergency Alert line at 855-630-1012 to receive info on school closures.
Is there a break room available at the campus for students?
Yes! We do have a student lounge area within the school available for student use.
If I want to study at the Wayne-Westland, MI campus before or after class, can I do that?
If you're interested in using the computer lab or studying at the school outside of normal class times, we do make that available to students and you can check with a member of our staff for specific details.
How will I know what resources are available to me to help me fund my education?
If you are interested in studying at Dorsey Schools, when you visit our campus, you will have the opportunity to meet with one of our Financial Aid Advisors. They will share information with you such as tuition and any applicable fees for your program of interest, as well as the various funding sources that may be available at our institution. The goal of our Financial Aid team is to ensure our prospective students and current students understand the various need and non-need based Financial Aid programs, and provide assistance through the application process.
Additional Information and resources are also available on the Financial Aid page of the Dorsey Schools website. Financial Aid is available for those who qualify.
Can you get me a job once I graduate?
No school can guarantee their students and graduates a job once they have finished their program. Here at Dorsey Schools, we offer career services assistance to all eligible graduates. You can learn more about the type of assistance our Career Services Coordinators offer by visiting our Career Services for Students and Graduates page.
Do you offer babysitting or childcare?
Our campus does not offer babysitting or childcare for enrolled students, however, if this is a concern for you, our team is more than happy to share any information we have available regarding local resources that may be able to assist you.
I've been out of school for a while. Can I really do this?
You can! Our staff understands that our students come to us from different backgrounds and at different stages in their life. We are prepared to help each of our students make the most of their career training at Dorsey.
Who are your students? Will there be people like me?
Our students come to us from a variety of backgrounds and experiences.
If I run into difficulties during my program, is there someone I can talk to?
We're committed to our students and want to help them succeed. If you're having academic challenges during your program, we would encourage you to meet with your instructors or the Academic Dean at the Wayne-Westland, MI campus. If you have another concern, our Managing Director at the Wayne-Westland, MI campus has an open door policy and is always willing to speak with students regarding any concerns they may have.