Manicuring Training Program
Get Started Today!

Step 1 - Campus of Interest
Step 2 - Required Information
First Name: *
Last Name: *
Clicking the button below constitutes your express written consent, without obligation to purchase, to be contacted by Dorsey Schools (including through automated technology, e.g. dialing and text messaging) via the telephone, mobile device (including SMS and MMS) using the phone numbers provided above, and/or email, even if your telephone number is on a corporate, state or the National Do Not Call Registry, and you agree to our terms of use and privacy policy. Standard message and data rates apply.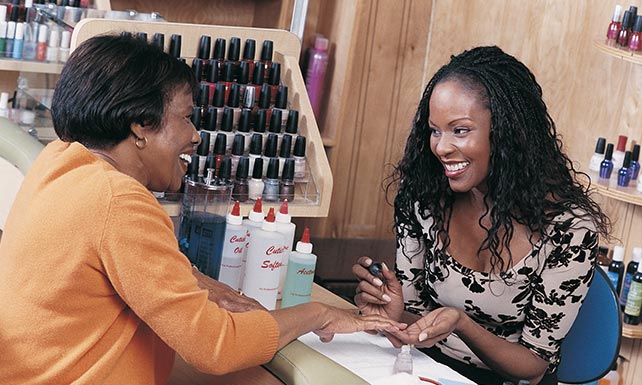 Manicuring Training Program
Please note:  Dorsey Schools is not accepting new students in the Manicuring program at this time.  Thank you.
Training in this program includes:
Basic instructions in manicure techniques, nail technology, and manicure shop management.
A Manicuring Student Kit, which contains various items used in the industry, as well as textbooks are provided by Dorsey School of Beauty.
Dorsey School of Beauty (located at the Taylor Campus) is institutionally accredited by the National Accrediting Commission of Career Arts & Sciences, Inc. (NACCAS) and holds initial approval to receive institutional accreditation from the Accrediting Council for Independent Colleges and Schools (ACICS).
As licensure is required for employment by the State of Michigan, Dorsey Schools will pay the cost one time for graduates of this program to challenge the state licensure exam, contingent upon the graduate meeting Dorsey Schools exam preparation requirements.
Manicuring Program
The Manicuring diploma program at Dorsey School of Beauty provides students with a basic understanding of manicuring techniques that include plain manicure, nail art, oil manicure, nail repair, and artificial nail application treatments. This program features a combination of classroom instruction and hands-on training in our on-campus beauty clinic. By the end of the program, each graduate will have had the opportunity to obtain the knowledge and experience that is designed to prepare them to enter this exciting profession.
Manicurist Career Outlook
Career opportunities for those trained and licensed in manicuring include manicurist, platform manicurist, salon owner, nail technician director, theatrical nail technician, manufacturer's representative, beauty products supervisor, beauty magazine columnist, and beauty supply salesperson. Jobs in this field can be found in private, chain, and department store salons and other beauty-related businesses.
According to the US Department of Labor, Bureau of Labor Statistics, employment of manicurists and pedicurists is projected to grow 10% from 2014 to 2024, which is faster than the average for all occupations.a In addition, according to the State of Michigan DTMB, Bureau of Labor Market Information and Strategic Initiatives, employment of manicurists and pedicurists is projected to grow 9% from 2014 to 2024.b
Enroll in the Manicuring program at Dorsey Schools today and get the career training you need to begin your journey towards becoming a professional manicurist.
Locations that Offer this Program
The Manicuring Training program is available at the following campus locations of Dorsey Schools:
Graduates from Dorsey Schools Have Been Employed By:
Gigi's Nails
Luv Manicures & Pedicures
Nails on the Go
Stepping Out Hair and Nail Salon
Ti Spa
Lasting Impressions
…and more!

Taylortown School of Beauty operates as Dorsey School of Beauty and/or Dorsey Schools (Taylor Campus location).
---
aBureau of Labor Statistics, U.S. Department of Labor, Occupational Outlook Handbook, 2016-17 Edition, Manicurists and Pedicurists, on the Internet at http://www.bls.gov/ooh/personal-care-and-service/manicurists-and-pedicurists.htm (visited July 11, 2016).
bMichigan DTMB, Bureau of Labor Market Information and Strategic Initiatives, Long-Term Occupational Employment Projections (2014-2024) Michigan Statewide, Manicurists and Pedicurists (SOC Code: 39-5092), http://milmi.mt.gov/Portals/137/publications/projectionsdata/LongTerm_OccupationalProj_2024_MI.xlsx (visited July 11, 2016).
<!if [IE]> <![end if]> <![if !IE]> <![endif]>