Hotel & Restaurant Management Program
Hotel and Restaurant Management Training Program
Get Started Today!

Step 1 - Campus of Interest
Step 2 - Required Information
First Name: *
Last Name: *
Clicking the button below constitutes your express written consent, without obligation to purchase, to be contacted by Dorsey Schools (including through automated technology, e.g. dialing and text messaging) via the telephone, mobile device (including SMS and MMS) using the phone numbers provided above, and/or email, even if your telephone number is on a corporate, state or the National Do Not Call Registry, and you agree to our terms of use and privacy policy. Standard message and data rates apply.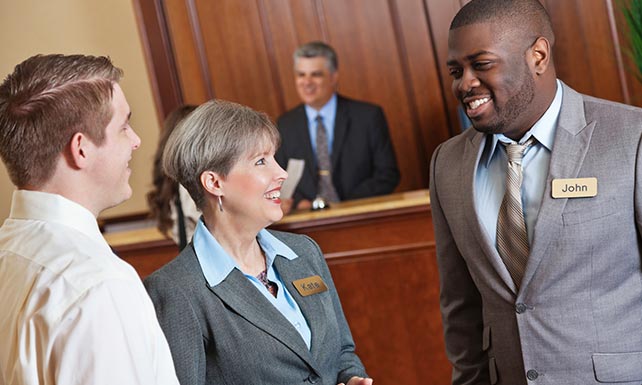 Hotel and Restaurant Management Training Program
Please note:  Dorsey Schools is not accepting students in the Hotel and Restaurant Management Training program at this time.
Training in this program includes:
The opportunity to develop the skills needed for careers in recreation and leisure, lodging and food services, restaurants, and businesses that offer conference services, expositions, and entertainment.
Coverage of topics such as hotel operations, restaurant management, human resources, organizational behavior, quality customer service strategies, accounting, and marketing.
Exposure to key business and professional communications skills, with a focus on verbal and written office communications, presentations, meetings, computer skills and more.
Students are eligible to challenge the ManageFirst® Competency Exams for ServSafe® Alcohol Certification, Hotel and Restaurant Management, and Controlling Foodservice Costs, as well as the National Restaurant Association's ServSafe® Essentials certification exam during the course of the program. Dorsey Schools will pay the cost one time for students in this program to challenge a certification/licensure exam as selected by Dorsey Schools, contingent upon the student meeting Dorsey Schools exam preparation requirements, which vary by program.
Hotel and Restaurant Management Program
The Hotel and Restaurant Management diploma program (offered at Dorsey Schools' Roseville, Michigan campus) helps students prepare for exciting careers in the hospitality industry. Combining traditional classroom-based career training and instruction with a hands-on externship component, this unique program delivers an outstanding learning experience for those looking to start a new career in this fast-paced and rewarding field. Students enrolled in the Hotel and Restaurant Management program can master the specific duties that are necessary to managing a hotel, restaurant, resort, or other hospitality venue.
Hospitality Career Outlook
Careers in the hospitality field are diverse. Graduates of this program have gone on to find successful employment in a variety of positions in the hospitality industry. Positions in this field can be found in hotels, resorts, spas, restaurants, night clubs, or any other venues that provide hospitality services.
Locations that Offer this Program
Graduates from Dorsey Schools Have Been Employed By:
Hampton Inn
MGM Grand Casino
New Center Community Services
Top Flite Financial
…and more!
<!if [IE]> <![end if]> <![if !IE]> <![endif]>