Business Support Specialties
Diploma Programs for Administrative Assistant Careers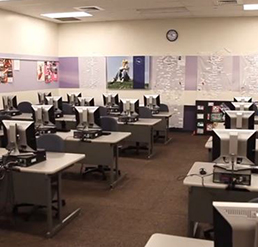 Administrative and support professionals play essential roles in the overall operation of today's businesses. At Dorsey Schools, we offer a Business Support Specialties Diploma program that is specially designed to help students gain the skills and educational foundation that are necessary to be eligible for employment in these business careers. Our program makes it possible to go from having no business experience to earning the qualifications needed to become a valuable member of an organization's team – all in a year or less. At Dorsey Schools, students have the opportunity to enhance their computer skills, develop their professional communication skills, and take part in specialized training that is specific to their program of study. By the time they graduate, they will have had the opportunity to gain the skills, knowledge and confidence they need to succeed.
If you have ever wanted to either start a career in the business field in an administrative or support role or enhance your current skillset with some valuable new talents and abilities, then the Business Support Specialties program offered at Dorsey Schools may be for you.
For more information, please visit the Computer Software Specialist page, or call us at 1-888-422-1188 to learn more!